Affordable Austin Office Space – Lower Lease Rates
Are you in the Austin market to find more affordable offices or cheaper rental office spaces? On this page, you can view current office spaces that have lower lease rates in Austin's commercial real estate market. Keep in mind that these more affordable offices for lease that have lower lease rates tend to fall into office space classes of Class B or lower. Austin still has the highest lease rates of all cities in Texas for Class B type properties as of 2018.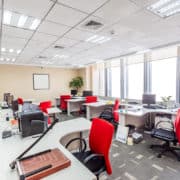 Offices less than 1500 SF require a 3 yr term for us to be able to help our clients. Regarding commercial rental rates, it is important not to expect a Class A office space to have below market lease rates when the overall market has low supply and low vacancy.
A current search based on a Client's parameters for low lease rate Austin office spaces are based on supply and demand statistics at the time the search is made for you. If you are interested in comparison data for market rate offices, click this link : Austin office space for lease .
Location by Submarket
Square Footage
Range
Low Lease Rate Offices Per Square Foot Per Month
MG= Master Gross, most offices are NNN
Potential Number of Value Office Space
Deals Available
Updated for
Central area
1,035-5,953
Min term of 3 yrs applies below 1500SF
$1.30 NNN-$1.50 FS
21 Value office spaces listed
July
Northeast to Georgetown and Round Rock
800-3,238
Min term of 3 yrs applies below 1500SF
$1.35 NNN- $1.50 FS
50 Value office spaces listed

July
Southeast and South
1,495-2,400
Min term of 3 yrs applies below 1500SF
$1.10 NNN- $1.75 NNN
11 Value office spaces listed
July
Southwest
929-3,500
Min term of 3 yrs applies below 1500SF
$1.20 NNN - $1.50 NNN
23 Value office spaces listed
July
Northwest, Cedar Park and Far NW , Domain
979-3,500
Min term of 3 yrs applies below 1500SF
$1.33 NNN-$1.50 NNN
73 Value office spaces listed
July
Call us or email us today to help you find the right office property for your business!
Commercial Office Leasing Support and Calculations

If you are a tenant looking for affordable commercial property rentals in Austin, you are on the right page. There are pockets of affordable office properties and as you can see most of these as of the past 30 days are in the Northcentral and Northeast, and Southwest areas of Austin. Finding cheap offices is not just about discovery, there are 12-15 steps to negotiate a successful lease. When you engage with Shire Commercial as a client, you will be provided with support thru every step of the lease negotiation and execution as well as being provided with experienced skills from our brokerage. It's all about finding the right office space for your business, why not contact us today?
To calculate your monthly lease rate use the following formula: Yearly rate divided by 12 months = 1 month's lease rate X SF of the office space. Example: $12.00 per yr / 12= $1.00 X 1,000 SF = $1,000.00 per month
Shire Commercial
License Number #0524917
11300 Prairie Dog Trl, Austin, TX 78750
Phone: (512) 947-5896
Steve@austin-office.com
Austin Office Market Q1 2018

April 9, 2018 - 3:43 pm

Austin Office Market Q1 2018 | Summary and Report Austin's office market is staying within a specific lease rate range with some major increases in certain sub-markets based on our vacancy reporting. Vacancy has increased to close to 10% coming up from the 8% range in the last quarter for 2017. 2017 came in at […]

Austin Office Market | Q4 2017

January 16, 2018 - 6:00 pm

Austin Office Market | Q4 2017 | Summary Report 2017 was a strong year overall for the Austin office market , although the last quarter was met with negative occupancy (absorption). Vacancy rates were at a 16 year low for the Austin office market as well. New development is an additional 600,000SF of space with […]